Imagine you are having a long tough day at your office and you want time off of your anxiety and tension, at that moment of pressure, a fidget toy may come in handy. Fidget toys help you to get relief from anxiety, tiredness, panic, and monotonic emotions. These fidget toys also have a proven influence in increasing productivity and activeness. These toys stimulate your emotional balance and keep you as calm and jolly as ever! After the success of fidget spinners, many fidget toys have been introduced to the audience who want to enhance their attention and focus eliminating all sorts of pointless depression and anxiety.
It is said that by keeping your hands engaged in simple repetitive work like foot tapping, hair twirling or toy squeezing, etc., your brain reduces the secretion of cortisol – which is the stress hormone, engaging your body to be more focused and attentive. Fidget toys in fact work as a distraction from all the tension a workplace has. Fidget toys are small and the best fun bit on your desk. These help you to endure long hours of boring phone calls or some panicking work assignments and be active in your workspace.
Why do we need fidget toys? And Does it really help?
By the time we are adults, we get pressured with many responsibilities. People at long meetings or a waiting room tend to have panic attacks. Movement is required to keep the body calm. But how will you move around if you are in a long important meeting or handling a phone call? A fidget toy can give a minimal dose of distraction from all this tension that will improve attention and focused productivity in these situations. Nowadays people get affected with many mental diseases due to the pressure at the workplace. People suffering from anxiety, attention deficit hyperactivity disorder, or sensory processing dysfunction have gotten pragmatic results with fidget toys. They found that these toys help them with self-regulation and eliminate overwhelming sensory stimulation. These toys can relieve stress and anxiety at a high level and can keep the stress hormone at bay.
Fidget toys are designed to relieve people fighting anxiety disorders or other mental problems. These toys are very useful to combat stress and panicking emotions. These toys have shown positive results in reducing depression and improving productivity during work with some negligible side effects. They are small in size but have a good influence in aiding concentration and productivity.
What to consider when choosing a fidget toy?
The first thing that should be kept in mind while choosing a fidget toy is to keep it simple. Those bright-colored, sweet-smelling, large toys are not what we need. First of all, you have to look at the price. There are different sorts of fidget toys varying in price. If you are looking to change your toy from time to time, we recommend buying a low-priced or mid-level priced fidget toy. You should also look at the size of your toy, whether it fits in your hand. Later on, Consider the material of your toy.
It is recommended to choose a fidget toy with durable material with a soft or hard and smooth texture, well the texture varies according to the preference of the user. When you choose an ideal fidget toy, you can carry it wherever you want or keep it on your desk at your office. These toys will give you a break from the tension and pressure at work and give you time to think clearly.
Now you might be wondering what sorts of fidget toys you should buy. We have listed some of our favorites and we hope these may help you choose your desired toy.
---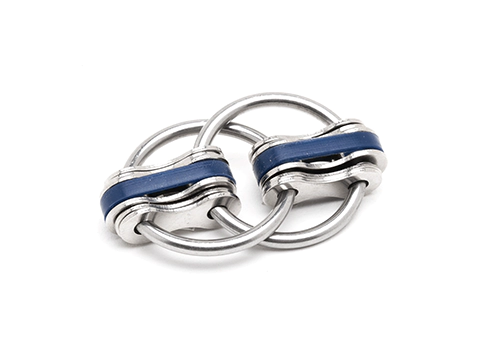 Fidgetland Noah is a small and discreet type of fidget toy that can be used anywhere – be it classroom or meeting room. It has an impressive texture, motion, and feel that makes you want to hold it for hours. It is one of the best things to keep your nervous hands busy. Noah is so silent that the person sitting next to you won't be able to notice you are playing with something in your hand.
The looks, design, and materials are attractive and make it easier to clean. It will take a small space inside your pocket which is why you can take it anywhere you are going. The durable materials, rubber, and two rings connected together make the toy more impressive. You can even use it on your bag chain like a keychain and it will still look attractive. The interlocking rings along with durable rubber that comes with a variety of colors are both good-looking and responsive.
It will fit into any size of hands and be smooth. That's what makes it more fantastic. You can give it as a gift to someone with anxiety, ADHD, or stress at work or something. Moreover, those who suffer from biting around the thumb area with nails can use this to be free from the habit. It will both help to heal the thumb area and relieve the habit.
---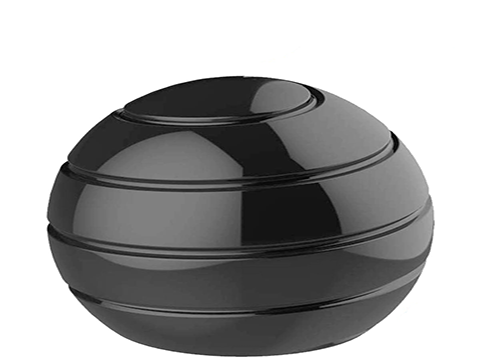 One of the perfect stress-relieving fidget toys is the Optical Illusion Spinner Balls. These balls are the size of a ping pong ball which gives a good grip and also takes up a small space on your desk. If you want to see the magic of the balls, simply rotate the ball that unravels the amazing effect of the spherical helix, as if it were to merge with the surface of the desk or any other flat surface. It is suitable for any place, be it your office or home. The spinner ball helps you to take a time off from the stress and also powers your focus and concentration.
The Pansi Optical Illusion spinner is a great kinetic desk toy that comes in different colors with shock-absorbent bottom and high-quality bearings. It silently and smoothly rotates on any flat surface which is a pleasure to the eyes. Moreover, the spinner ball relieves you from anxiety and stress. The spinner toy helps you to improve your focus and enhances your creative ideas during any long boring meeting or any brainstorming event. Once you get addicted to this fidget toy, you can't help using it again and again where you are bored or anxious.
---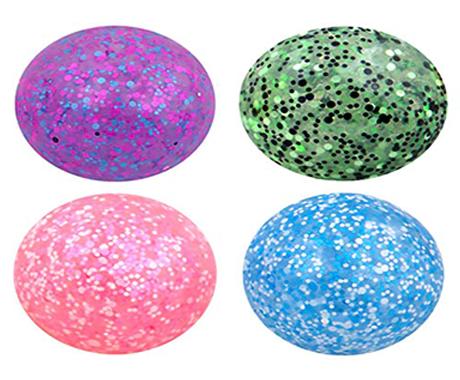 Stress balls are classic and popular fidget toys. They are small, malleable, and designed to be squeezed or manipulated by your hands. These toys help your body to relieve the tension and negative energy in your body caused by work pressure. They also help to reactivate your mind and let you be more focused and attentive in your work. Moreover, these balls divert your mind from anxiety and tiredness from your endless work and long boring meetings.
Stress balls can increase your activeness and concentration in any work. These squishy balls can also be used as an exercise for your hands and wrist, making them strong and flexible and also relaxing your muscles. They also can be used as a fun and leisure toy that can be used as a time-pass.
There is a wide range of stress balls available out there. While buying a stress ball, you should check its material, whether it's durable, flexible, and soft. However, if you can't figure out which one to buy, we suggest buying the cute and fun potato stress ball by Alpi. Alpi has manufactured a wide range of stress balls with different amazing designs. The toys are designed in various shapes and shapes according to the customer's preference. The stress balls are soft, flexible, and durable, having the features of a perfect stress reliever.
---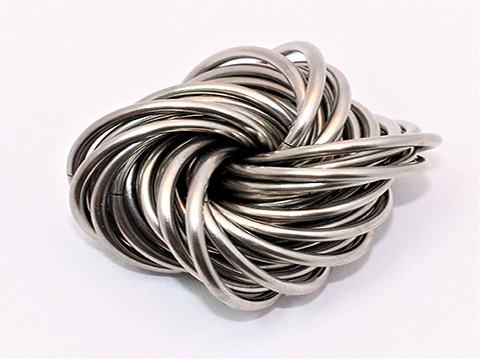 Looking for small fidget toys that will keep your hands busy and your mind relaxed? Well, Möbii Stainless Steel Fidget Ball is a good choice for that. It takes a bit of time to get them started, once you get the hang of them, you can play with them with satisfaction. The fidget ball is built with stainless steel chainmail rings that are loosely attached to each other that keep pulling one another and endlessly patterned weave. The clicking sound of the steel rings is very satisfying and very helpful for your thinking time. It is perfect for keeping your hands busy.
The Möbii Stainless Steel Fidget Ball gives a smooth and sturdy feel in your hands while fidgeting. They come in different colors and are small in size, which makes them easy to carry anywhere. The fidget ball is very smooth. The chainmail rings are properly linked to one another with no sharp ends. It is quite soothing and satisfying to play with this toy. But one of the drawbacks, sometimes the clicking sound might become noisy. The toy gives a minimal distraction from anxiety and improves your mental health. In fact, the steel fidget ball is a classy fidget toy that one can love.
---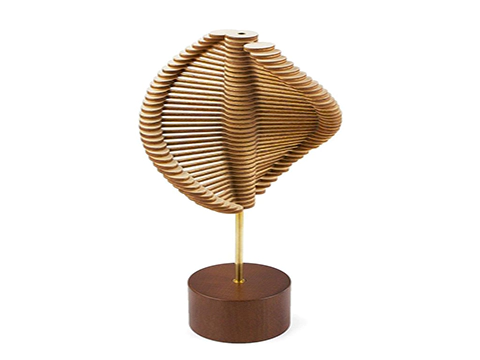 Helicon is a pleasure to the eyes. It is very mesmerizing to look at while it beautifully transforms into different botanical shapes such as "pine cones". The mechanism of the helicon is based on the Fibonacci number and the golden angle that visualizes a great illusion. The structure of the helicone is that 38 laser-cut wooden pieces are attached to a brass tube with a wooden stand. When you spin the handle, the wooden pieces transform and assemble in such a position that it looks like a pine cone.
Helicons can also be a desk accessory at your office or study as well as a stress reliever. It can also be a unique decorative item for your homes and workplaces. This toy is candy for the eyes since they are alluring and fun. It is very relaxing looking at the beautiful transformations of the toy. It is a really good fidget toy that helps you rest your eyes and improve for focus and concentration after long and tiring work.
---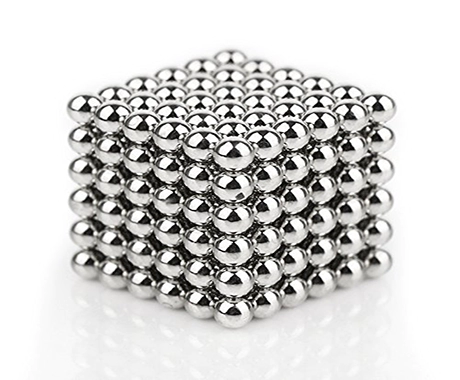 If you want to enhance your creativity and imagination, then Magnetic Balls are a very good choice. You can build any pattern or figures with the magnetic balls and also smash them! The Likee Magnetic Balls come with a set of 171 shiny and smooth steel balls and 1 super strong magnetic base. The magnetic balls are very smooth and give a really stylish look. They would look very good on your desk or study. These magnetic balls can be great leisure items when you are having a rough day or fighting anxiety and stress. Playing with these awesome magnetic balls, you can enhance your creativity and imagination to a new level. You can create endless patterns and kill boredom in no time! The magnetic power is very strong that holds the balls together which is very cool.
Magnetic balls are a good fidget toy that encourages creativity and ensures good entertainment. You can build endless combinations with the balls and have a great time doing so. The small-sized balls are durable and rigid and can be designed into any 3 dimension design. One of the plus points of this fidget toy is that it is easy to build without any external tool. You can use it as a recreational tool in your boredom or also a stress reliever in your stressful times. They are very fun to play with and they don't fail to keep you entertained and jolly. Also, you can keep the magnetic balls as a decorative item in your office or at home.
---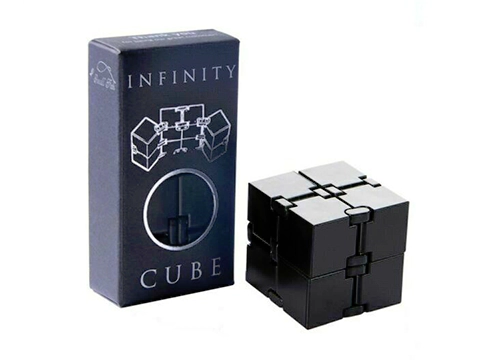 Small fish Infinity cube fidget toys are a great thing to relieve anxiety and release stress during work or school time. Anxiety and tension result in long-term habits of biting nails, shaking legs, and more bad habits. This toy will help you to reduce your anxiety so that those bad habits won't get a chance to occur. Infinity cube will let you improve your concentration or focus during meetings, work, or while studying. It is made with good quality materials and has solid build quality. It is pocket-sized and heavier than normal fidget toys as it is made of aluminum. This cube is entertaining and comfortable to use. Moreover, playing with it not only improves the mind but also finger flexibility.
The Small fish Infinity Cube is of two types. One is made of aluminum and the other one is plastic. Apart from the materials, everything else is the same. People with autism, ADHD, and ADD are the best benefactors of this fidget toy. It is dense, solid, heavy, and effective. The plastic version of this infinity cube is more durable than the metal one. Also, it is awesome as a gift, especially for kids and teens. Since the kids like entertaining and good-looking things, this can be a good choice for the parents out there. Even an office worker would love to have this because of continuous stress in workloads.
---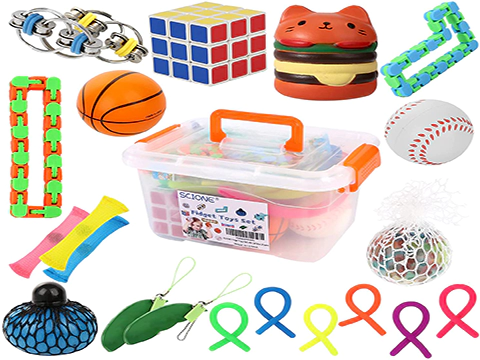 Interstellar has introduced a complete set of fidget toys for users suffering from anxiety and stress. This amazing toy set includes almost all the basic fidget toys which are a kinetic Spinning Desk Toy, Fidget Pad, Sensory Stretch Toy, Infinity Cube, Fidget Stick, and Spring Toy. So you don't have to worry if you get bored with one fidget toy, you have other options! These toys are a great companion to you if you are suffering from monotony and stress. Even children can play with these toys and improve their mental development.
The fidget toy set by Interstellar is a great hit actually. People have loved it because of the multiple fidget toys it contains. Nowadays, most people are working from home and this has increased the rate of stress and depression among them. So these toys have been very helpful to them for relieving stress and anxiety. The fidget toys have done a great deal improving their focus and concentration at work. Also, the toys are of top-notch quality made of durable material. By looking at the pack, you can understand the amount of effort the company has put into your stress relief. Since there are multiple toys, You can share them with your friends or co-workers which means double fun!
---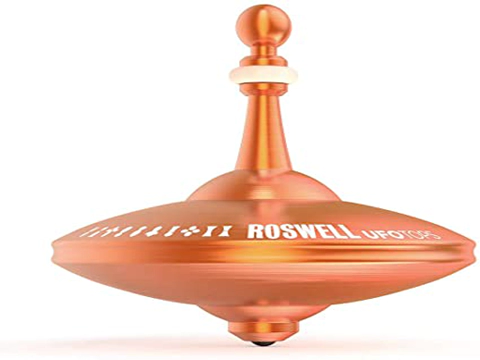 There is nothing more pleasing than looking at a top spinning on your desk with smoothness and speed. By the name, it is easily understandable that the Plexity Labs UFO Tops look like cute little UFOs. The design is inspired by the historic UFO spotted in New Mexico in 1947. The tops are designed similarly to historic UFOs sighted. Every top comes with a sighting card that depicts a picture and history of the UFO sightings Roswell, Cussac, and Rendlesham. Tops are great for all age categories, be they an adult or a child. The Plexity Labs UFO Tops are light-weighted tops that spin for almost 3 minutes or more. They are pocket-sized with a rubber grip and precision bearing that ensures a long spinning time. This metallic top comes in different attractive colors and is very fun to play with. 
The Plexity Lab UFO tops are very attractive and fun to play with. You can kill boredom and anxiety with this amazing toy. People of all age groups in fact enjoy this cute small-sized UFO top. The tops are built with high-quality metallic steel with a smooth and clean texture. It is very relaxing to watch the UFO tops spinning for 3-4 minutes on any flat surface. You can forget your anxiety and take a break from all the stress in your environment and relax by playing with this amazing toy.
---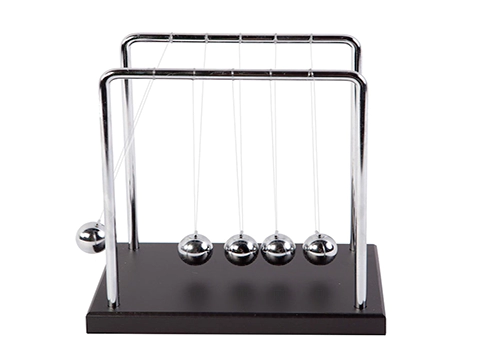 By the name, you have already understood that Newton's cradle works on the basis of Newton's law of motion which is: To every action, there is an equal and opposite reaction. This toy has been quite a help to understand the rules of momentum. So now you know how to play with this toy. Firstly when a person releases a sphere at the end, the sphere strikes the next stationary sphere transferring a force, then the sphere strikes the next still sphere and it goes on as it reaches the last sphere, pushing it upward. The last sphere then reversely strikes its previous sphere and repeats the action until an equal amount of reaction is produced.
Newton's cradle is a great toy on your desk or study. It is suitable for office workers or any child. It is a pleasure to watch the spheres clicking on one another. Also, it can relieve your stress, as well as improve your mental health.
Newton's cradle is a good toy on your table. Whether you want to observe the laws of physics or just want to relax your mind, Newton's cradle is a great companion then. You can relieve your stress and anxiety and your intelligence and mental health are developed. Another fun fact for those who are teachers, you can easily teach your students the conservation of energy, Newton's law, or any other physics law of momentum by demonstrating Newton's cradle. This toy is in fact great for employed staff depressed and anxious from work, also for children who are developing their intelligence and mental health.
---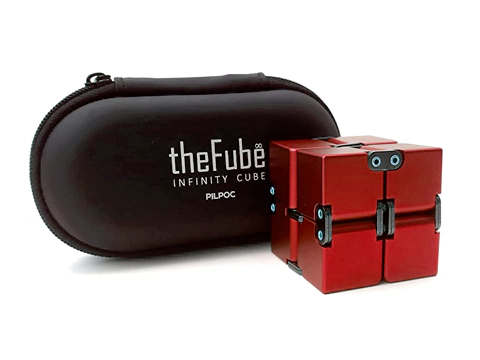 Excess anxiety and stress result in fidgeting. Science has proved that fidgeting can reduce anxiety and stress and relax your mind. The Fube Infinity Cube is a cool anxiety reliever fidget toy. It might look like a Rubix cube but doesn't behave like one. The cubes fold in and out creating a different square or rectangular shapes. This toy has been proven great for people suffering from anxiety and stress. It has been helpful for children developing their mental health. It is a great fidgeting toy to keep your hands busy and your mind relaxed during stressful work or boring meetings.
Made with aluminum alloy the Fube Infinity cube is durable and smooth. The cube ensures smooth and fast rotations which are very mind-calming. This toy helps to improve focus and concentration in your work or studies. Also, the cube helps to get rid of bad habits. This toy comes in different attractive colors and is pretty small in size that comes with cash that makes it easy to carry anywhere anytime. The Fube Infinity Cube is made up of 8 cubes that are rotatable in any direction or angle which adds another fun angle. This toy is suitable for all age groups who are looking for a way to calm their anxiety and improve their thinking power.