Mechanical pencils are the evolution of pencils that are convenient and great for work and study. These writing instruments are full of precision and are so in style nowadays. 
Mechanical pencils can be used in technical fine-art drawing as well as for neat handwriting. You don't have to worry about sharpening the tip of the mechanical pencils. You can keep changing the lead and also can replace the leads when you run out of them. Mechanical Pencils offer break resistance qualities and don't require much work like wooden pencils. 
Mechanical pencils are known by many names. These names vary according to place. In Uk, mechanical pencils are commonly known as "automatic pencils", "clicky pencils", "propelling pencils", "technical pencils", "drafting pencils" etc. While in India, "pacer", "pen pencil" and "lead pencil" are the nicknames for mechanical pencils. Nowadays, Mechanical pencils are used everywhere, be it offices or schools and their popularity is on the rise.
Benefits of a Mechanical Pen
Mechanical pens are resistant to all sorts of abuse and heavy use. Even though people are depending more and more on technologies these days to write any note or draw any art, there are some who prefer things by hand.  That's when the need for mechanical pens rises. This generation wants everything to be precise and less messy and a mechanical pen is perfect for that. 
There are a lot of benefits of writing with a mechanical pencil. A few of them are mentioned below:
Mechanical pencils ensure long sessions of endless writing
Let's suppose you are having a test, you might be needing uninterrupted time for a lot of writing. That is when mechanical pencils come in handy.  You can write or draw for longer periods without worrying about sharpening the tip of the pencil or the imbalance of the leads. 
Not much worry about sharper or mess
When you use a pencil, after some writing, you sharpen the tip. This causes a lot of mess in your workspace. When using a mechanical pencil, you don't have to sharpen the lead, which means less mess on your workspace to keep you more focused. 
Refillable
You don't have to worry about sharpening the tip when using a mechanical pencil. You can just replace the lead and when you run out of writable lead, you can refill them. The leads can be bought separately in plastic boxes. This means you can use a single mechanical pencil for a long period of time. That means it will also save money!
Environment-friendly
Every year, millions of trees are cut down in the manufacturing of pencils. Using a mechanical pencil can be a step towards helping your environment and saving trees. According to the present crisis of global warming, it is high time to shift from wooden pencils to mechanical pencils.
Precise and neat drawing and notes
When you sharpen a pencil, firstly the writing appears a bit thin when it reaches the desired consistency. But when you are using a mechanical pencil, the thickness is the same all the time which is great when drawing new projects. The consistency and precision of mechanical pencils are much more predictable than that of wooden pencils. It is a great tool for artists as well as architects and engineers.
How to use a mechanical pencil?
Using a mechanical pencil is very easy and simple. As for the old-school way, you just click on the end to get out the appropriately sized lead you need. 
When a lead is used up, you can replace it with another one by clicking at the end. 
When you run out of usable leads, you can buy a refill and add new leads just under the eraser. 
How to choose the right mechanical pencil?
Buying a mechanical pencil is not a very difficult task but buying the appropriate mechanical pencil for your project, you have to check for various qualities. There are infinite mechanical pencils available in the market. So many to choose from right? Mechanical pencils vary according to purpose. That means there are different mechanical pencils for writing again there are completely different mechanical pencils for drawing.
The appropriately sized lead tip
So to buy the right mechanical pen, you have to get the right-sized lead. So as mentioned before there are different leads designed for writing and drawing. There are 4 types of lead common. The sizes of the lead that are available are 0.3mm, 0.5mm,  0.7mm, and 0.9mm.
The type of mechanical pencils that have the lead sized 0.9mm are quite popular for sketching motives. 
The common ones that are available are the mechanical pencils sized 0.7mm, which are appropriate for writing purposes, and non-detailed drawings. 
Whereas the popular ones are sized 0.5mm, which is suitable for both writing and drawing. 
Lastly, the leads that are sized 0.3mm are thin and are perfect for writing purposes and detailed drawing.
The mechanical pencils that have a diameter of 0.5mm and 0.7mm are good for the school. The 0.7 mm-sized leads are darker and are appropriate for those who press while writing. And 0.5mm leads are probably suitable for drawing since they give more precision. Darker leads are recommended if it is used for educational or work purposes. For instance, accountants need to make their notes and numbers easier to read, so a lead of 0.9mm diameter is suitable to make notes darker and easier to read.
Hardness Of Lead
It is also mandatory to check for the hardness of the lead. Softer the lead means darker lines. Likewise, harder the lead means lighter the strokes. The hard leads are used to draw up while the soft ones are used to add intense shades and darken the sketch. 
 To measure the hardness of lead, H, HB, and 2B are used. Here H means hard and it increases with a number. B means black, the blackness increases with softness. And finally, HB means hard black which is the combination of both hardness and blackness.
| | | |
| --- | --- | --- |
| Type | Hardness | Preferential Uses |
| 8B | Extra-soft | Shading |
| 7B | Extra-soft | Shading |
| 6B | Extra-soft | Shading |
| 5B | Soft, Intense Black | Writing and Sketching |
| 4B | Soft, Intense Black | Writing and Sketching |
| 3B | Soft, Intense Black | Writing and Sketching |
| 2B | Soft, Black | Drawing up and Sketching |
| B | Soft, Black | Drawing up and Sketching |
| HB | Half-soft | Sketching and Technical Drawing |
| H | Hard | Technical Drawing |
| 2H | Harder | Technical Drawing |
| 3H | Very Hard | Technical Drawing auxiliary lines |
| 4H | Very Hard | Technical Drawing auxiliary lines |
| 5H | Very Hard | Technical Drawing auxiliary lines |
| 6H | Extra Hard | Drawing on Polyester sheets, Cartography and Lithography |
| 7H | Extra Hard | Drawing on Polyester sheets, Cartography and Lithography |
| 8H | Extra Hard | Drawing on Polyester sheets, Cartography and Lithography |
Comfortable grip
If you write or draw for long sessions, you might be needing something that feels comfortable in your hand. It is seen that, if your mechanical pencil or pen causes discomfort, the enthusiasm for productivity draws back. Most mechanical pencils come with rubber grips and some textures that help you hold the grip of the pen. So look for a mechanical pencil that suits your hands and helps you work for long sessions. 
Best Mechanical Pencils for Drawing & Writing
---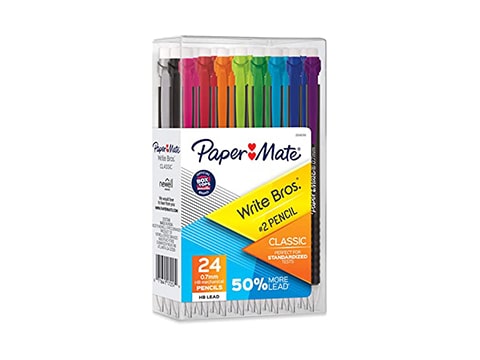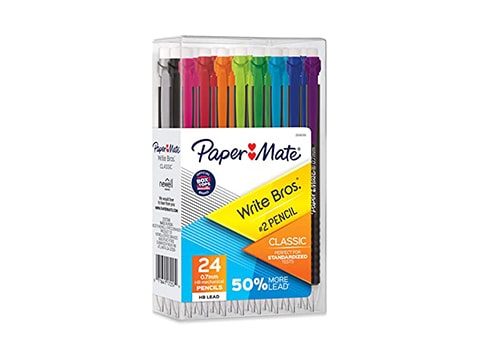 If you are looking for pencils ideal for standardized testing, the Paper Mate Write Bros. Classic Mechanical Pencils are the one for you. These pencils come with 50% more lead, which means you can have endless writing with zero worries about sharpening. These pencils have 0.7mm leads and also an amazing smudge-free eraser that keeps your writing neat and clean. 
The Paper Mate Write Bros. Classic is an assorted pack with 24 mechanical pencils that come in a variety of colors. These pencils are great for work and school. The mechanical pencils have a comfortable and controlled grip and also have pocket clips that are in different colors. The pencils have a retractable mechanism that allows you to use the lead according to your need and refrain from breaking.
The Paper mate Write Bros Mechanical Pencils come with loaded dark and strong graphite leads. The leads are dark and smooth. They are durable and strong but sadly not refillable. However, the lead lasts for a long time. It is easy to load the graphite leads, you just have to click, all thanks to the flawless mechanism of the pencils The Paper mate pencils come with a refillable attached eraser. The erasers are really good, they literally erase any writing without any smudge.
---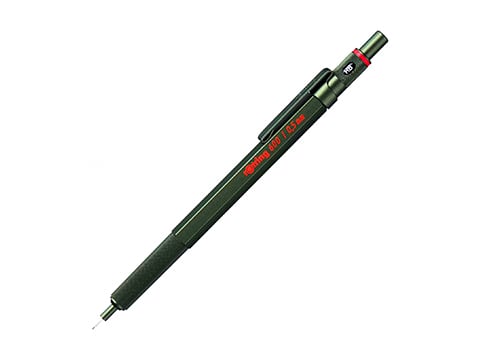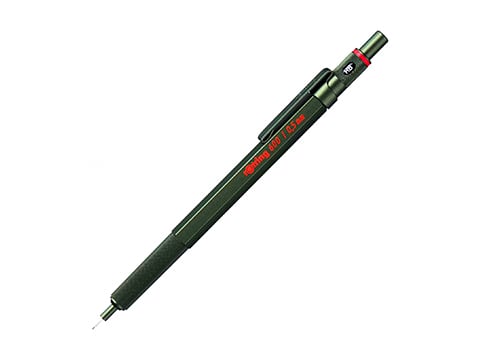 The rOtring 600 Mechanical Pencil is overall an ideal writing tool for writing and drawing that is meant for a lifetime of use.  This iconic professional writing tool has a metallic body that gives a moderate weight balance while writing and drawing. The rOtring drafting pencils have a solid construction with a brass mechanism that ensures precision and neatness. The brass mechanism ensures long durability and precision lead advancement.
Rotring 600 Mechanical Pencil is overall the best on the list of mechanical pencils. These pencils are attractive even though they are not colored or decorated. Also, they are comfortable and have a great feel despite having no rubber grip or paddle. They have a knurled metallic casing and textured grip that prevents them from slipping from your hand during writing or drawing. The pencils have a hexagonal design that prevents them from rolling on the table, so you don't have to worry about your pencil rolling or sliding on the table, the pencil stays where you keep it.
The pencil comes with a texture in the lower part that gives a comfortable feel in the hand and avoids slipperiness during long endless sessions of writing and drawing. They also come with a built-in indicator, you can see what hardness of lead is loaded in the pencil. The fixed lead guidance sleeve of the pencils prevents breakage and helps you get a clear view of your writing or ruler based on precise work or drawing. The pencils come with a built-in eraser that is placed under the push-button cap. Also, you don't have to worry about leads running out, these pencils are refillable with HB leads.
Well, you have to stay cautious, since the tip of the drafting pencil is quite fragile, so you keep it on your desk or place it in a pencil case. A little bit of caution, the mechanical pencil stays new for a long time. The pencils are also quite heavy as for a drawing tool. And also, the guidance sleeve might get damaged if dropped.
The rOtring 600 Mechanical Pencil comes with a two-year guarantee. They come in black and silver colors and 2 lead sizes which are 0.5mm and 0.7mm.
---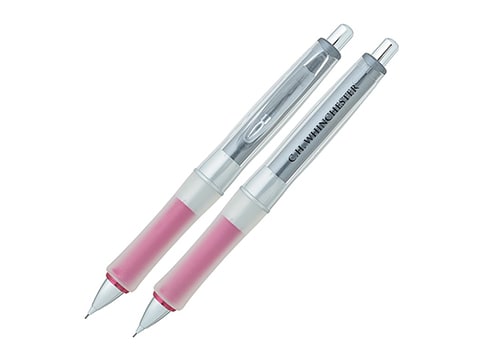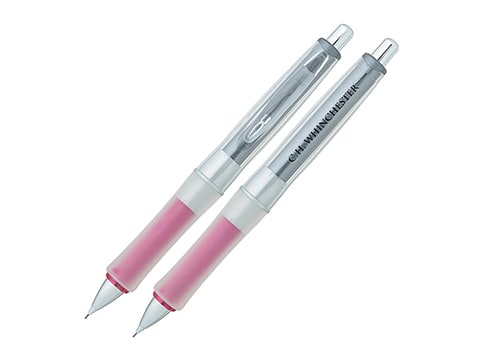 Pilot Dr. Grip Mechanical pencil is a recommended one for those people who suffer from arthritis or hand fatigue during long sessions of writing. The first and most important feature of this pencil is that it keeps comfort first. This mechanical pencil is very comfortable to write with for long hours. It reduces pain in the hands caused due to excess writing and tries to keep your hands at ease.
Besides comfort, Pilot Dr. Grip has other impressive features too. It is easy to use and has a good feel in the hands. This mechanical pencil comes in 3 different designs, all having leads sized 0.5mm. They have a firm grip and are tip weighed for better writing. They come with a small eraser attached. It is great for detailed sketching or just writing.
These pencils are easy to refill. You can just shake or knock for lead. It is a good shaker pencil. If you are a pen spinner, well this is a good one for fidgeting. The Pilot Dr. Grip Mechanical pencil is a very ergonomic pencil with an ideal weight for a mechanical pencil. It is actually a great pencil for those who are looking for comfortable mechanical pencils.
---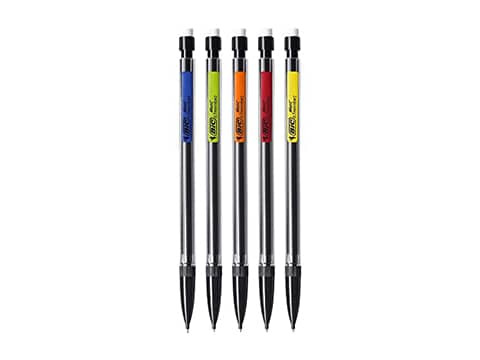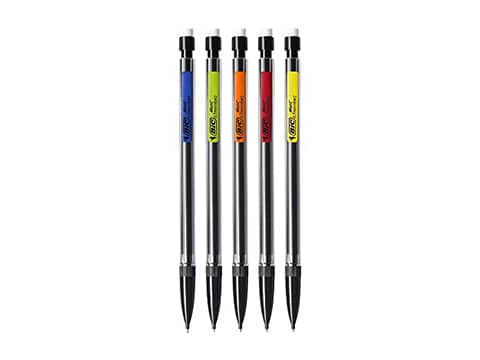 The BIC Mechanical pencils are one of the popular brands these days. They are even the amazon best sellers. They go by the famous statement that one BIC pencil equals 2.5 wood case pencils. This means you are getting much more than you are paying. Definitely a win! 
This variety pack comes with 40 mechanical pencils with 0.7mm sized leads. The BIC Xtra-smooth mechanical pencils are dependable and thick. The leads are dark and smooth ensuring smooth writing and zero smudge. These #2 pencils are great for standardized testing. You don't have to worry about sharpening the pencils, since they are always sharp. Thus non-stop writing and sketching. 
The BIC Xtra-Smooth Mechanical pencil stands out for its performance and value. The pencils are easy to use. It is easy to load the lead smoothly according to your need only by clicking. The pencil leads are of great quality that creates smooth and precise lines. The leads are strong and durable. The writings are neat and smudge-free which is easily erasable. The pencils are suitable and versatile for all writing activities. The clear barrel with attractively colored clip gives a very solid look to the mechanical pencil.
The BIC  Xtra-Smooth Mechanical pencils have a very sturdy construction making them an excellent choice. These pencils help to keep your work neat and professional. It is excellent for both school and offices.
---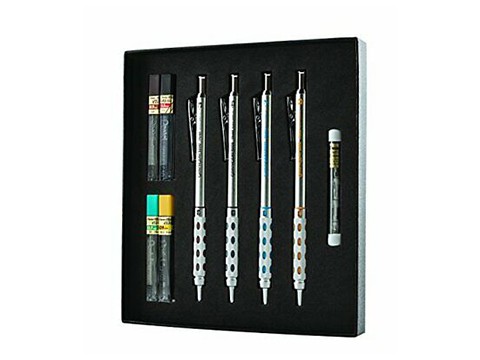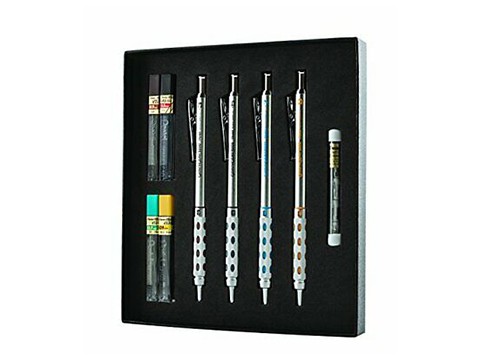 The Pentel Arts GraphGear 100 mechanical pencils are designed for professionals and enthusiasts. It is both stylish and functional.  Architects, artists, or drafters need pencils of every thickness, that's when this mechanical pencil comes in handy. The Pentel Arts Graph Gear comes in all 4 popular pencil lead sizes which are 0.3mm, 0.5mm, 0.7mm, and 0.9mm. The pencils are color-coded which makes it easy and fast to identify lead sizes. 0.3mm lead pencils are brown, 0.5mm are grey, blue for 0.7mm and 0.9mm are yellow in color. 
The pencil doesn't need much sharpening since it is preloaded with Pentel Super hi polymer lead. The leads are extra dark and very strong that means no lead breakage. The mechanical pencils have a 4mm tip that makes them suitable to use for rulers and templates and the dual-action retractors retract the tip that protects the leads from breaking.
The Pentel Arts graph gear is very comfortable with a metallic grip inlaid with soft latex pads. The color of the pads varies on the pencil leads you to choose which makes it easier to identify which lead you are using while working. The eraser and lead of the mechanical pencils are refillable. The barrel of the pencil has a rotating window that allows you to recognize the hardness of lead you placed inside. 
These features make the Pentel Art graph gear mechanical pencil easy to use without much hassle. The pencils are light weighted and have no lead breakage at all. They are ergonomically well-engineered pencils that have a positive and accurate clutch operation. Thus it can be said that the Pentel arts graph gear is perfect for both writing and drawing.
---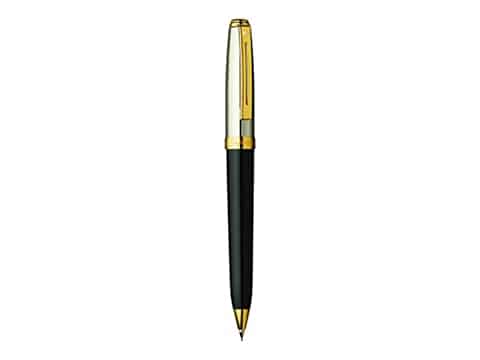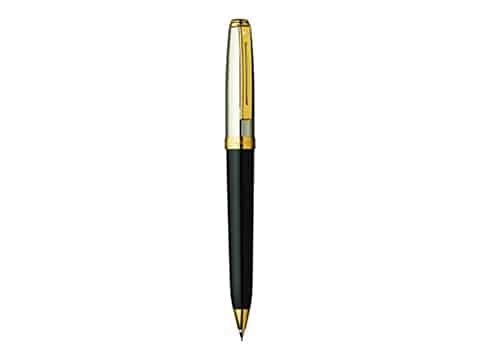 If you are looking for a traditionally stylish mechanical pencil, well the Sheaffer Prelude is the one for you. Black Matte featuring 22KT gold sets the statement for this drafting pencil. The pencil weighs lighter than it looks and is also very comfortable. The black matte finishing adds extra style to the pencil. The construction is well balanced that makes it easy to write with. It is in fact a fine writing tool that is beautifully designed and easy to use. 
Sheaffer Prelude drafting pencils have elegant and classy features that seem to rival other pens on your desk. Also, it can be a great gift, packed in a luxury gift box, to give for work promotion or graduation. This drafting pencil is a choice for all ages and gender.  Sheaffer Prelude is praised for its impressive design and comforts. It is in fact a brag for those wishing for a smooth and pleasurable writing experience with utmost comfort.
The Sheaffer Prelude mechanical pencils feature traditional styling and modern functionality. The mechanical pencils have sleeves that protect them from lead breakage. The pencil helps you write smoothly even if you exert much pressure. It is an ideal choice for those who want precision and smooth finishing in their writing.
The pencils come with only 0.7mm sized leads with a push nib deployment mechanism. The 0.7mm lead ensures precision and a smooth writing experience. Overall, Sheaffer's prelude is a good executive writing tool with both traditional style and modern approach.
---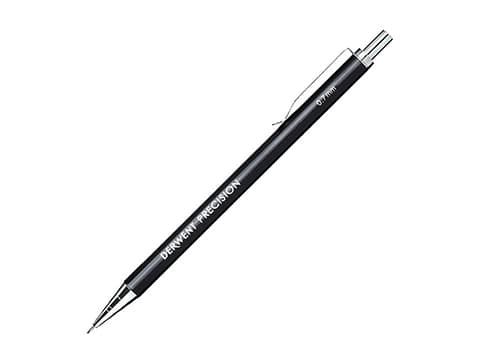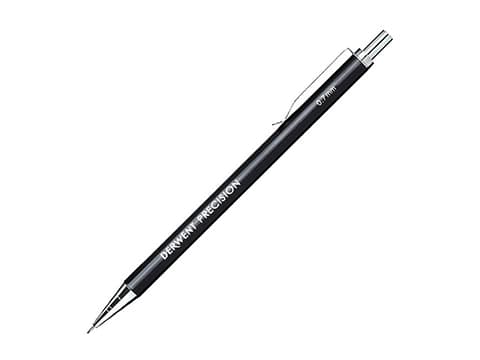 The Derwent Precision Mechanical Pencil is essential for any professional looking for precision. These mechanical pencils are specially designed for drawing and sketching. They feature amazing features that outshine them as an ideal choice for professional and amateur artists.
The Derwent Precision Mechanical Pencils are available in two sizes, fine-tipped 0.5mm and medium-tipped 0.7mm. The leads are HB that has the chance of minimal breakage. The leads are protected by the retracted thin lead sleeve. The pencils come with built-in replaceable erasers. 
The solid construction of these mechanical pencils ensures extra precision. The pencils maintain great balance and consistency while detailed sketching or drawing. They are lightweight, slim, and comfortable. The fully metal body of the mechanical pencils helps to maintain a tight grip during fine detailed work and cross-hatching. They feel comfortable and high-quality at your hands ensuring your productivity at a non-stop level.
Every artist needs consistent and precise mechanical pencils for their sketching and drawing. The Derwent Precision Mechanical pencil is a great choice for them. The graphite leads are strong and smooth. The manufacturers concentrated on making this mechanical pencil more detailed and fine and they have succeeded in doing that. In fact, it has proven to be a very sturdy mechanical pencil for fine artwork.
---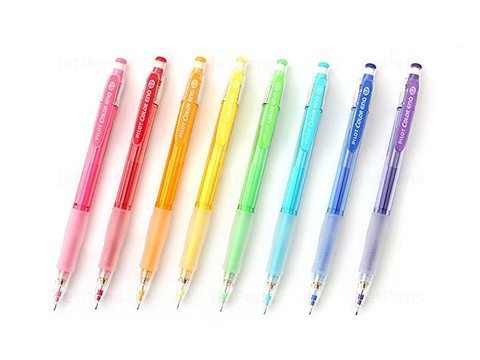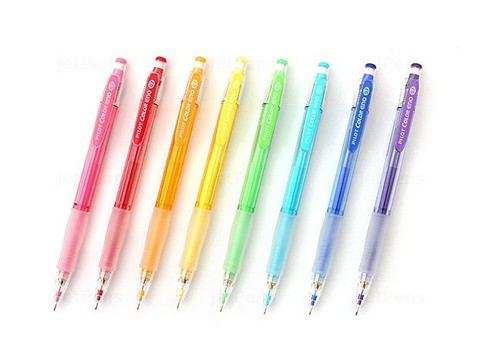 The Pilot Color Eno Automatic pencil, an amazing mechanical pencil set from Japan, comes with a set of eight vibrant colored mechanical pencils which are red, pink, orange, yellow, green, soft blue, blue, and violet. These mechanical pencils have set a statement that mechanical pencils don't only mean plain grey or black graphite lead, they can be colorful also. These are an amazing set of 8 brightly colored mechanical pencils with matching colored leads. 
The Pilot Color Eno Mechanical Pencils, have leads sized 0.7mm that are smudge free, easy to erase, smooth, soft, and vibrant making this perfect for drawings and sketching. The mechanical pencils come with two leads and a replaceable eraser. The leads have a low chance of breakage. You don't have to take the pain of sharpening the lead, so it is hassle-free and mess-free.  But you should keep in mind that replacing the leads can be quite hectic. 
The Pilot Color Eno Mechanical Pencils is an affordable mechanical pencil with a modern design that gives a solid feel in one's hand. These pencils give you more variations than other mechanical pencils available in the market in the same range. Writing and drawing with these pencils are smooth and have a vibrant color. They are ideal for drawing and sketching on a regular basis.
---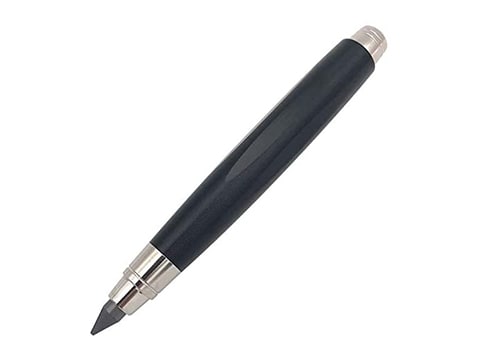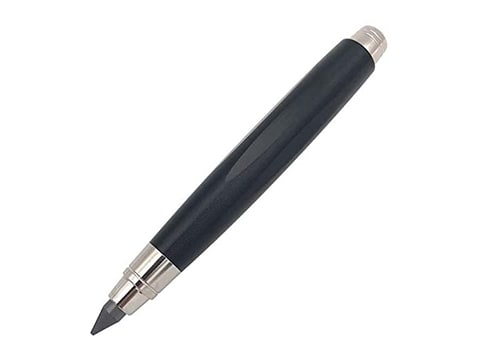 If you are looking for the best mechanical pencil for sketching, similar to mechanical pencils, mechanical clutch pencil, WSD Sketch Up is the one for you. WSD Sketch Up is made from brass and aluminum alloy that gives it a very attractive look with a precise comfortable feel. This mechanical clutch can hold 5.6mmX90mm leads and also it comes with a built-in sharpener that is in the lid. It keeps your hands at ease and cleans while you work and is suitable for sketching, writing, and technical drawing.
The WSD Sketch-up has a solid construction that gives a heavy feel and good balance. It is easy to use and durable. The clutch pencil holds large and thick leads that help you make good lines and well shades while sketching. While working you might want to adjust the size of the lead, it can easily be done by pressing the cap of the pencil. It is great for artists and designers who have to sketch with shade and details frequently.
This clutch pencil is very ergonomic and affordable. A few of the drawbacks of WSD Sketch Up is that it has a thick grip and is shorter than a standard pencil. But after all, this one shines with its impressive features of being a great tool for sketching.
---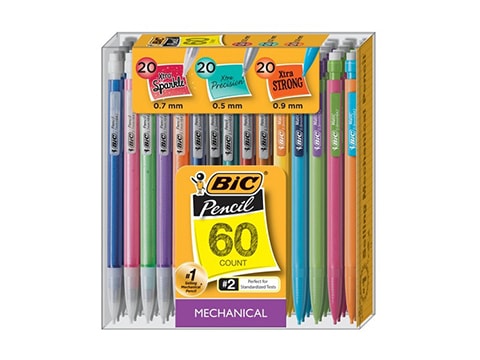 If you are looking for a cheap and also exceptional mechanical pencil, then BIC Mechanical Pencil is the one for you. This Bic Mechanical Pencil Variety pack comes with 60-count of mechanical pencils that have leads sized 0.5mm, 0.7mm, and 0.9mm. The convenient 60-count variety pack includes 20 Xtra-precision 0.5mm fine pointed pencils, 20 Xtra-sparkle 0.7mm medium pointed pencils and 20 Xtra-Strong thickly pointed pencils, so you can find the right lead according to your use. This variety pack of amazing mechanical pencils is ideal for writers ensuring qualitative writing with an affordable price tag. Writing any notes with these pencils, you will get precise neat lines. 
The BIC mechanical pencil is very customer-friendly. You are getting much more than you pay for since one BIC is the same as 2.5 wood case pencils. The mechanical pencils are very colorful and attractive that comes with a built-in eraser. 
The pencils are great for all age categories. The mechanical pencils 0.7mm sized leads are recommended for children who tend to press while writing. The shatter and splinter-resistant leads are dark, sturdy, smooth, and durable ensuring no breakage. Each pencil ensures a smooth and neat writing experience with no smudge and is easily erasable.
The Bic Mechanical Pencils have amazing features that make them the #1 choice. They are affordable and are very popular among customers on Amazon. They are highly recommended for kids going to school. This is definitely a win-win.
---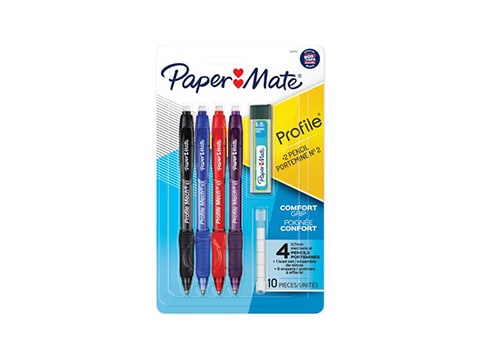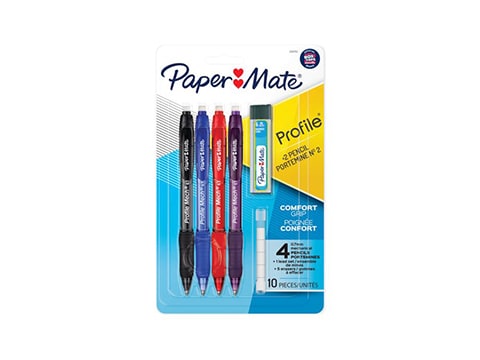 Paper mate mechanical pencils are loved for work and school.  Paper Mate Profile Mech Mechanical pencils are versatile in performance and attractive in looks. They help you stay productive and on top of your game. They feel great in your hands and have a comfortable grip that helps you write relentlessly for long hours.
This mechanical pencil set comes with 8 mechanical pencils in assorted colors. These #2 pencils have lead-sized 0.7mm that is ideal for standardized tests. The Paper Mate Profile Mech Mechanical pencils do not disappoint in their dependability.  This is a trusted brand in all homes, offices, and educational institutes.
The paper mate mechanical pencils have a very impressive construction that gives a professional look and feel. These mechanical pencils have 0.7mm HB lead and erasers that are refillable. The flawless retracting mechanism of the pencils enables you to get out the required size of lead and also protects the lead from breaking.
These pencils ensure clean and neat writing with no smudging. The pencils have a rubber grip that helps you hold tightly and avoid the pencils slipping from your hand. These pencils are great for everyone. They are easy to use and will keep you satisfied.
---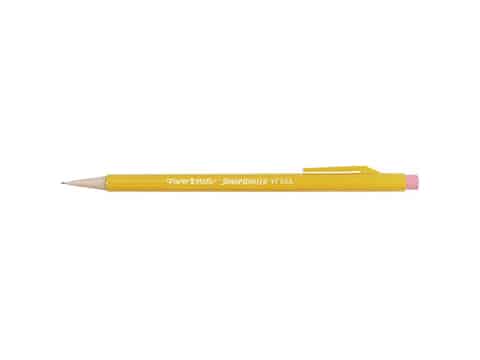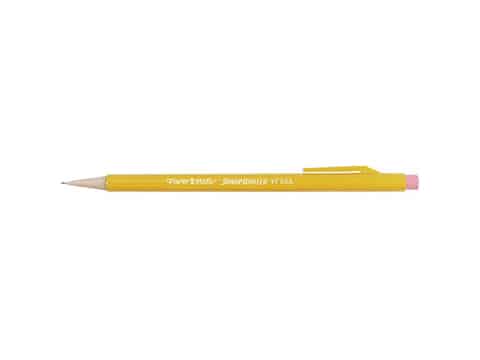 The paper mate SharpWriter mechanical pencils are much better than average mechanical pencils. These mechanical pencils are break-resistant with a shock-absorbent tip. The pencils are built with break-proof technology that ensures protection against lead breakage. This amazing feature makes this mechanical pencil different from others.
The Paper Mate SharpWriter mechanical pencil does not fail to satisfy the user. They ensure precise and smudge-free lines. These pencils come with 0.7mm leads which makes them suitable for standardized testing, note-writing, and other writing tasks. The pencils also feature pink erasers that erase any mistake very neatly leaving no smudge. The leads are dark and smooth, easily erasable. They have a cool twistable tip mechanism that helps you not to worry about sharpening the tip of the pencil.  
These amazing mechanical pencils help you stay focused on your work, all thanks to its shock-absorbing tip. The shock-absorbent tip helps to prevent lead breakage ensuring long endless writing sessions. They are very versatile in performance. The easy to twist design helps you to get out the required amount of lead by twisting the tip of the pencil.
Another popular quality of Paper mate SharpWriter mechanical pencils is that they are affordable and not to forget durable. These mechanical pencils are easy to use. They are suitable for all age categories in homes, schools, and offices.